Gold in California , Gold Sales, Native Gold,
Gold in Quartz Rock, Tuolumne Sunshine Mine, Gold specimens, natural gold
Gold information ,
Fine specimens of native gold in quartz are found in pockets where the quartz and slate intersect on this mountain, because the previous miners crushed and smelted all of the gold ore that they mined, many fine specimens were processed and lost. So here are a few specimens. All pictures are enlarged, actual stone is smaller. These stones can be cut into very nice slabs by you.
__________________________________________
Gold in Quartz Specimen
Item # B 006
Good solid piece of quartz with gold bursting out , numerous small chunks of gold through the matrix. The Australia Department of Education is going to use a picture of this specimen in it's school text books as a fine example of California gold in quartz. Hence the premiun price.
Weight 20 grams
Length 31 mm
Width 26 mm
Thickness 20 mm
Item # B 006 $1200.oo
Gold in Quartz
Gold in Quartz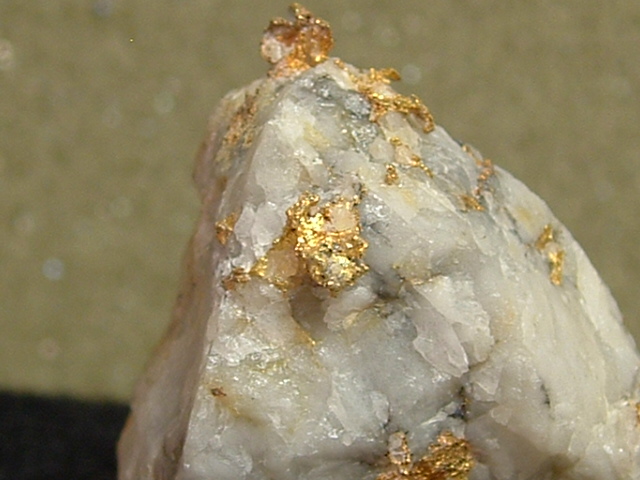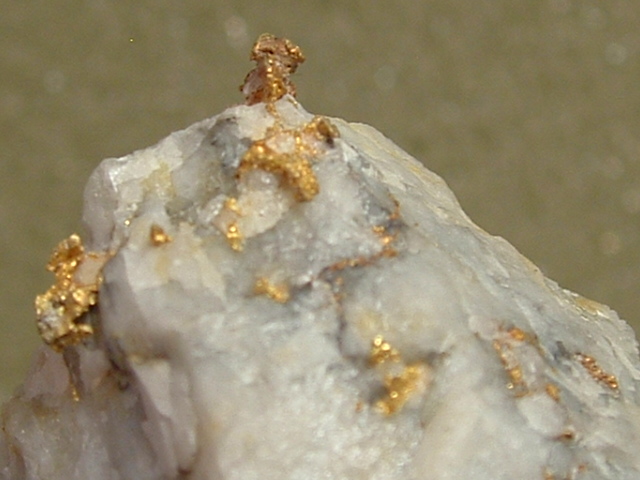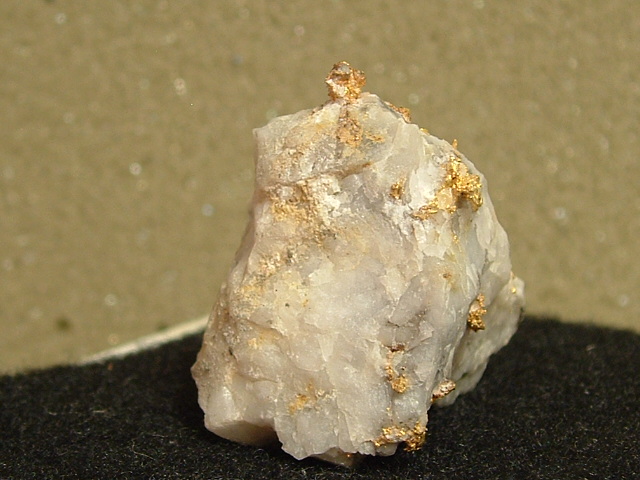 xxxxxxxxxxxxxxxxxxxxxxxxxxxxxxxxxxxxxxxxxxxxxxxxxxxxxxxxxxxxxxxxxxxxxxxxxxxxxxxxxxxxxxxxxxxxxxxxxxxxxxxxxxxxxxxx
Gold in Quartz Specimen: Item # A 012

Small stone with good dense native gold in a grey quartz, natural gold specimen from one of the tailings piles on this mountain.

7.2 grams

Gold information ,

Gold in Quartz specimen, with good gold content. Quartz is grey with slate mixed in.

Weight 7.2 grams;

length 0.92 inches (23mm);

width 0.65 inches (16mm); thickness 0.45 inches (11mm);

Item # A012 $288.oo

Gold in Quartz
Gold in Quartz
xxxxxxxxxxxxxxxxxxxxxxxxxxxxxxxxxxxxxxxxxxxxxxxxxxxxxxxxxxxxxxxxxxxxxx
Tuolumne Sunshine ; Gold Nuggets, Native Gold, Natural Gold,
Gold in Quartz Specimen # A013

Natural gold in the quartz is so beautiful as it bursts through the translucent quartz, this gem could be cut or carved or just enjoyed for it's natural beauty.

23.0 grams

Gold information ,

Gold in quartz specimen, nice for slabs or native gold in quartz

Weight:23.0-grams

Length:1.6-inches(41mm)

Width:1.1-inches(27mm)

Thickness:0.82-inches(20mm)

Item #A013 $920.oo

Gold in Quartz
Gold in Quartz
Enter subhead content here
xcxcxcxcbbbbb
Natural Gold Nuggets * Tuolumne Sunshine Mine * Tuolumne County * California * US *