Gold Specimen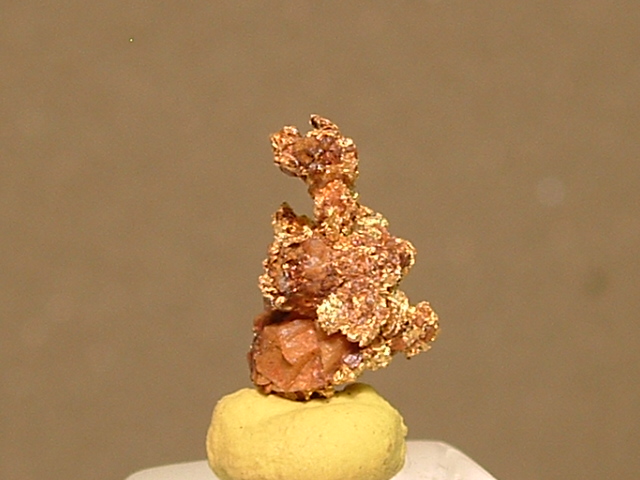 Gold Specimen
Gold in Quartz
Gold in Quartz
Gold in Quartz
xxxxxxxxxxxxxxxxxxxxx
Gold information ,
Tuolumne Sunshine Mine.; Is part of the original Gold Rush Era Mining claims, the Jolly Travelers Mine (1883) and the Little Queen Mine (1883), the Sadie Mine was added to the site in 1897
Native Gold in quartz veins were first mined by open trenches dug on the north face of this mountain, these first guys, The American 49ers started placer mining in the 1851 , finding gold nuggets. Hydraulic mining was started with the completion of the Whisky Ditch Canal which brough water from the Columbia Canal on Yankee Hill to the Whisky Ditch Mine on the east slope of this mountain. The Hope Mine was discovered in 1879 on the west bank of the gulch by Nathan Arnold, but the hard rock mining tunnels on the east side of the gulch were first started in 1883. Many mine tunnels were blasted open on the mountain where the numerous parallel quartz veins intersect layers of slate. The natural gold pockets occur in random and unpredicable deposits along the contact zone. The area is extremely uplifted and heavyly faulted, the original vein is displaced several feet to the north in many locations Lady Luck is our best tool.
Gold panning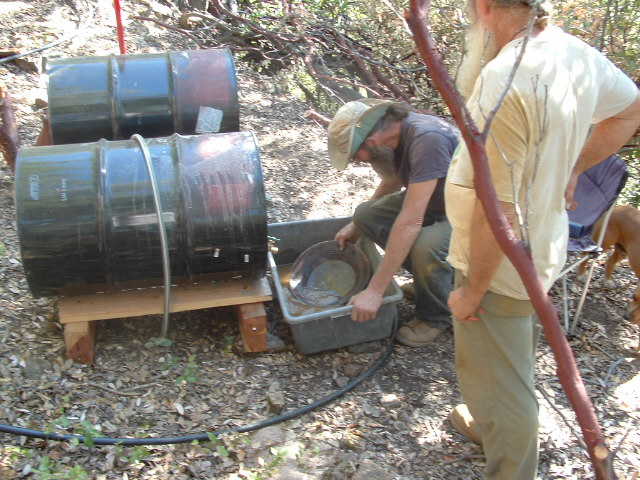 Gold panning
Yankee Hill Waterfall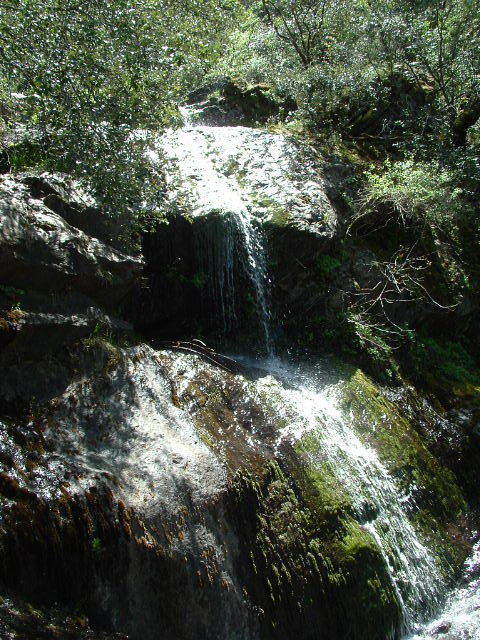 Tuolumne Sunshine Mine, started June 1, 2008, a fine adventure exploring a massive ghost town complex of twelve abandoned mines on a steep rock mountain in the California gold country, I have not yet explored all the mine tunnels and there are many that are still hidden in the brush, waiting to be reopened. This was a working mine complex from 1883 until it was shut down by the government in 1942 but never reopened. until now and the adventure continues........ At this time I am doing exploratory prospecting and enjoying the search. In 2011 the United States Forest Service approved my "plan of operation" for the Tuolumne Sunshine Mine, to extend existing tunnels and add to existing tailing piles, so I am going prospecting. and I am breaking lots of rocks and enjoying the hunt for rare crystallized gold specimens. To supply this website, some of the gold presently for sale here, was found in the Fidelity Quartz Mine in prior years on this mountain. This adjacent mine, was working the same mineral formation and is now included in the "plan of operation" for the Tuolumne Sunshine Mine.
I hope Lady Luck smiles on us and keeps us safe from harm, when underground.
Have a nice DAY.
April 30, 2017
Due to age and health problems, the "Tuolumne Sunshine Mine", 20 acre lode mining claim near Columbia, California
is "for SALE",
Needs lots of young energy and ore processing equipment.
Sale also includes the "Ice Box Mine", 20 acre lode mining claim near Twain Harte, California. Serious inquires only.
Assay Certificate ,,,, Tuolumne Sunshine Mine
North Face Tunnel ore assay
Tuolumne Sunshine Mine
Tuolumne Sunshine Mine
*Before this gold prospecting adventure found me, I was working with other fine stones from California and having fine California adventures.
Fine Fire Agates from Opal Hill Mine that I have wire wrapped.
Visit my Fire Agate page to view available stones.
Fire Agate Pendant
Fire Agate
*
Benitoite Jewelry and Crystal Specimens from old Dallas Benitoite Gem Mine.
Benitoite page has mostly crystals and some jewelry.
Benitoite Pendant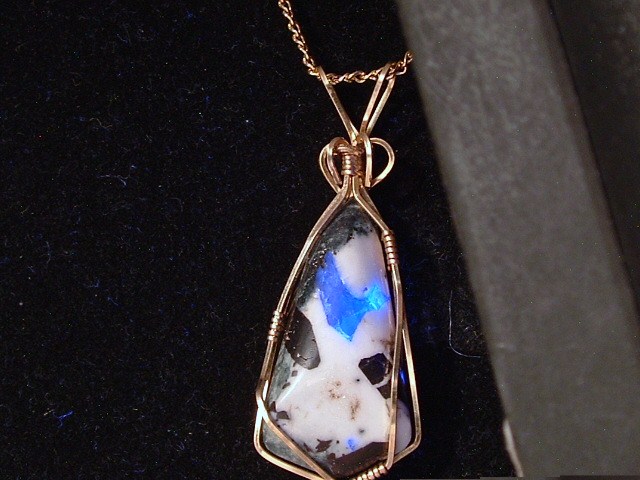 Benitoite
Benitoite fluorescences under short wave UV light a brilliant blue.
Benitoite Specimen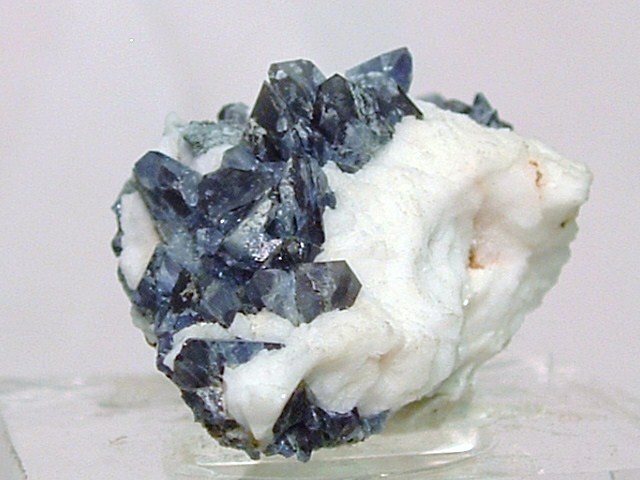 Benitoite Specimen
Neptunite Specimen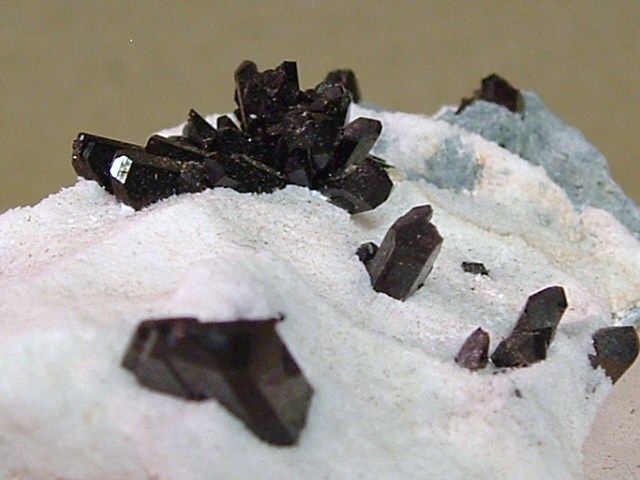 Neptunite specimen
Neptunite from the old Benitoite Gem Mine
xxxxxxxxxxxxxxxxxxxxx
Silver
Silver in quartz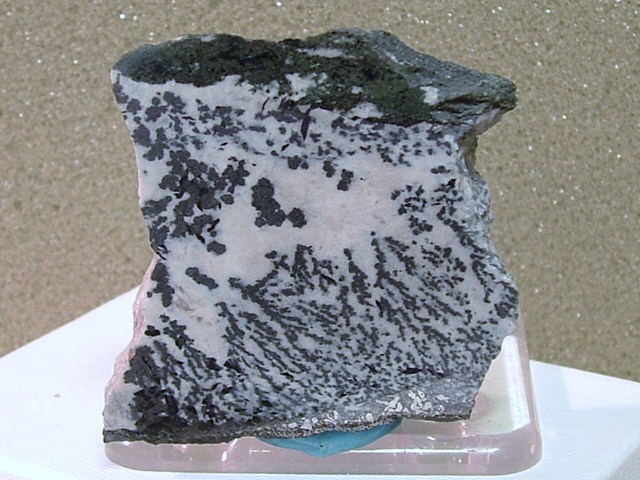 Silver in Quartz
Silver in Quartz from Cobalt Mining District, Ontario, Canada
xxxxxxxxxxxxxxxxxxxxxxxxxxxxxxxxxxxxxxxx
South Fork of Stanislaus River Canyon
a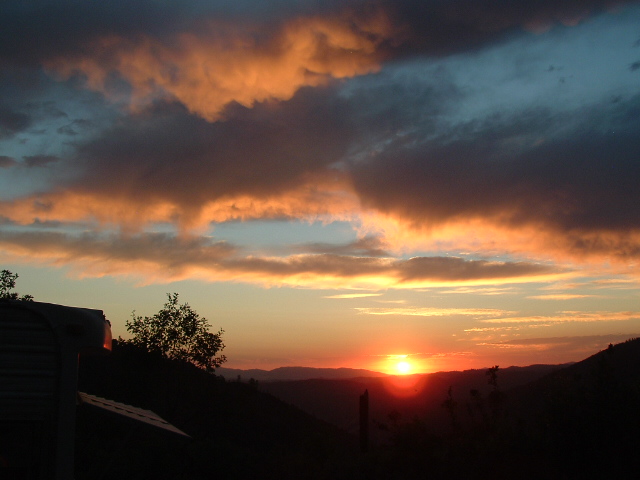 Sunset at Tuolumne Sunshine Mine